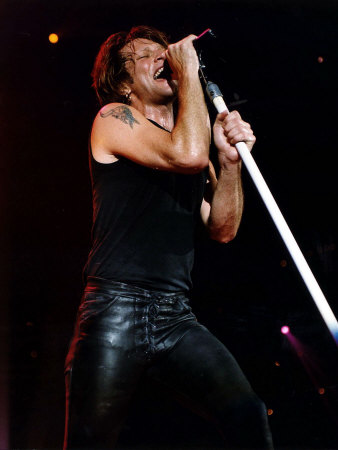 It's a shame that until tonight, sitting in my own room, singing aloud "Bed of Roses", I realise for the first time these lyrics are really worth to die for.
The bitterness, the pain, the loss, the memory of a true love
While some marching band keeps it's own beat in my head
While we're talking
About all of the things that I long to believe
About love, the truth, what you mean to me and the truth is
Baby you're all that I need
…
The barkeeper's wig's crooked
And she's giving me the eye
Well I might have said yeah
But I laughed so hard I think I died
Ooh yeah
Yes, "ooh yeah", how painful is that!!!
While my mistress she calls me to stand in her spotlight again
Tonight I won't be alone
But you know that don't mean I'm not lonely
It's become a habit that whenever I feel stressed or low, I always find myself turning on the music sometimes automatically without I even realise, hoping it could be the only way getting me out of the tunnel. I am normally the soft, melodic music kind of person, but on those occasions I need something harder, sometimes I even need to get lost and cry in the sound of Death Metal.
But Bon Jovi's music is the most successful in taking me away from reality and take a good deal of bad emotions out of me. I still remember me sitting there, in the middle of a classroom, listening to "Have a nice day" by my mp3 player to stop the trembling hands and get ready for the presentation that I'd been working so hard on.
I remember not long ago how "Welcome to wherever you are" became the song that took the most of my tears ever. I kept crying harder and harder, non-stop, with the song played in max volume in the background. Even more when it came to the chorus.
I guess it is the true emotions put in every song of Jon Bon Jovi that I can relate myself to so much. Look at "Bed of Roses", who wouldn't be moved by that kind of lyrics, especially when they are in a similar situation?