So, as you know, I'm at the end of the brooch collecting phase (or at least I told myself to stop, because this thing is addictive, I can just keep buying more and more). This will be the last update in which I show you new ones, which people say is the honeymoon stage of making a brooch bouquet, from the next one on it will be the will-stretching process of assembling the flowers into a bouquet, which I anticipate will entail a lot of self-discipline and anger management from my part.
This leather brooch I bought last week from a leather flower shop at a design event in Helsinki. It's on the more pricey end among my brooches, but oh well, hopefully it's worth it.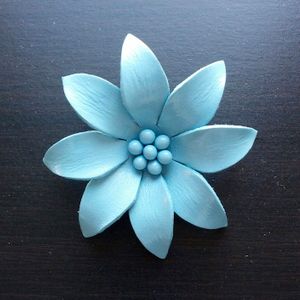 These following 4 brooches were sent over from my friend in Cassino, Italy. I stupidly erased one photo by mistake, hence the smaller 4th photo.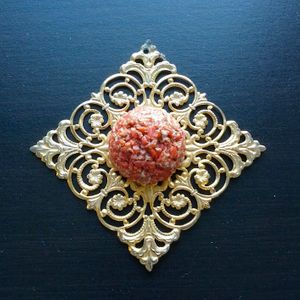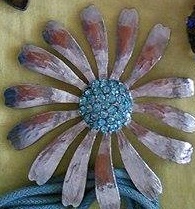 They are all beautiful, and my favourite is the last one because none of my brooches has such distinct flower shape. But the problem is it doesn't have colour except for the blue stamen, and I want my bouquet to be colourful, not colour-neutral. I had been thinking about this for quite a while, since many other brooches of mine are also silver or colourless. I thought about spray painting them but that appeared to be tricky as I would have to cover the stamen, in this case for example, and also I'm not sure how the spray paint would affect the shininess of the rhinestones on some silver brooches. Another reason that is also very important is spray paint can be expensive, hence the colours will be very limited.
One day, I woke up and thought about trying to paint them with nail polish, that way I would have a much better control of where the paint goes, and my roommate's and my pooled resource of nail polish allows a wide range of colours and textures. I tried first on a large silver brooch, even painted the rhinestones. The result surpassed my expectation, it is vibrant and shiny, with the right shade of blue that I want. The process was also very easy and enjoyable (except for the nail polish's smell, of course).
After the success of the first attempt, I went on and painted all my colourless brooches with nail polishes. It's true what they say, when in doubt, use nail polish!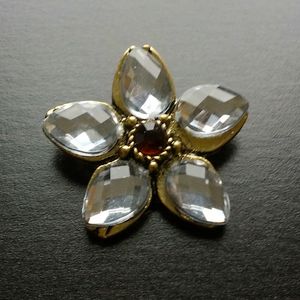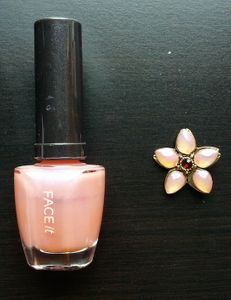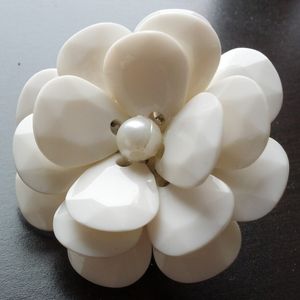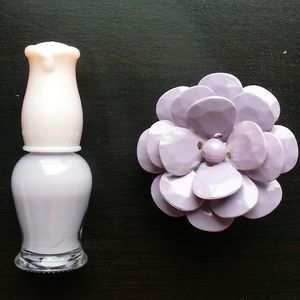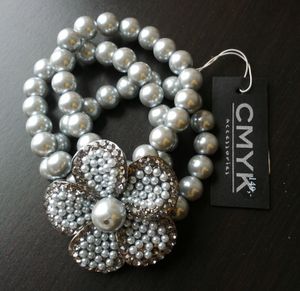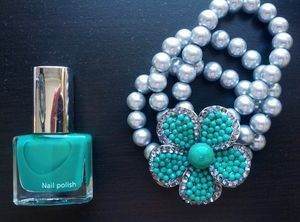 I also painted the one above, from my friend in Italy, with yellow nail polish. The yellow looks quite hideous with the blue in the middle, but I don't care, I just want a freaking yellow flower in my bouquet.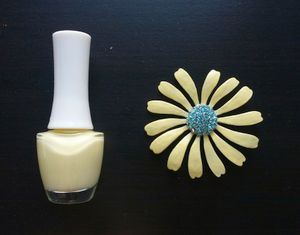 Now I'm happy with my brooch collection. I went and bought wire and floral tape the other day, but will assemble the bouquet when I'm home next month, as it is almost impossible to put a brooch bouquet in check-in luggage, and I also don't want to risk any chance that airport security does not approve of a girl running around with a metal bouquet in hands and wants to disassemble it to check for weapons. So see you next time in the painful process of actually making the bouquet, when I'm home.