I had awesome birthdays before, but this year, it's not even my birthday yet, but AMAZING things kept turning up…
Early in the morning, I went volunteering to help plant trees and shrubs in Murdoch, to celebrate World Environment Day, which is tomorrow. The thing is, World Environment Day is the day I was born, so I just thought it would be such a cool way to celebrate my own birthday by doing something good for the world (okay, maybe some shrubs do not change the world very much, but at least I gave home to some cockatoos
). It was a good fun, I learned to appreciate much more the very thing that I often take for granted. It was a good work out for the body too, under the sun. I also met very nice people, mostly were staff, but I met a girl whose parents are Vietnamese, and she turned out to even have the same middle name with me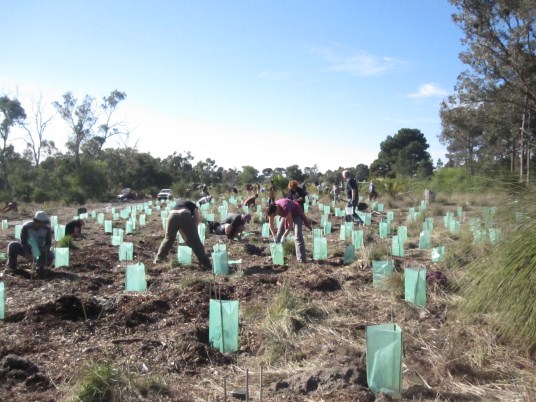 Thuy An and Thuy Ngan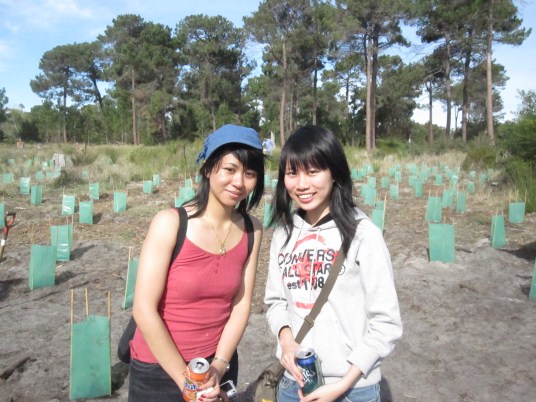 Then I went for some shopping in the city. Surprisingly enough, touched my first physical birthday present from Linh. Thanks so muchhhhhhh man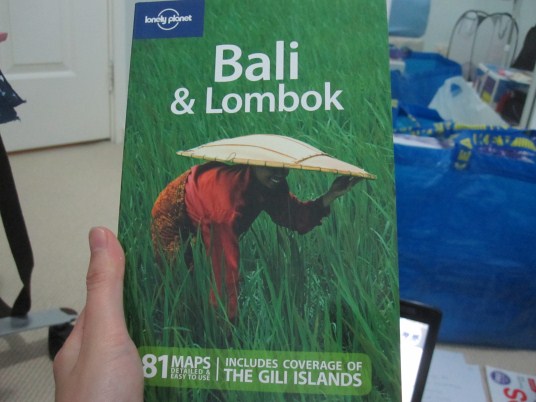 Then I went to my cousin's house to give her a good haircut. Do not have a proper picture of that, but according to A LOT OF people, including the guinea-pig, the outcome is amazing. So I'm just not commenting on that
.
Kenny (my cousin's housemate) serving us some good live music on the spot while the haircut was being done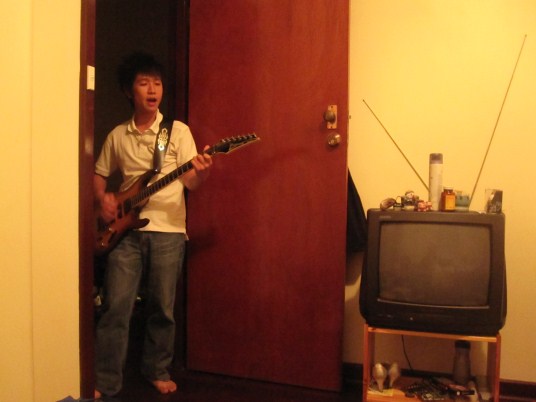 We were all starving when dinner was (finally) ready. It was unbelievably delicious!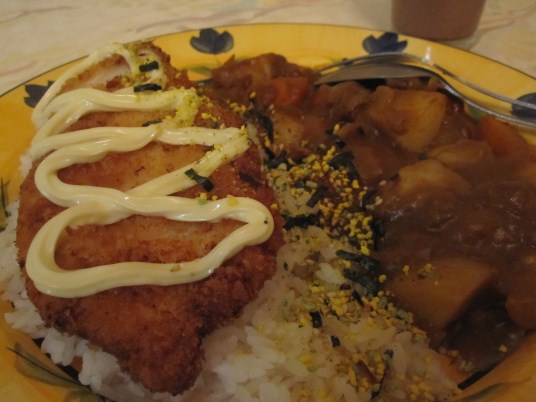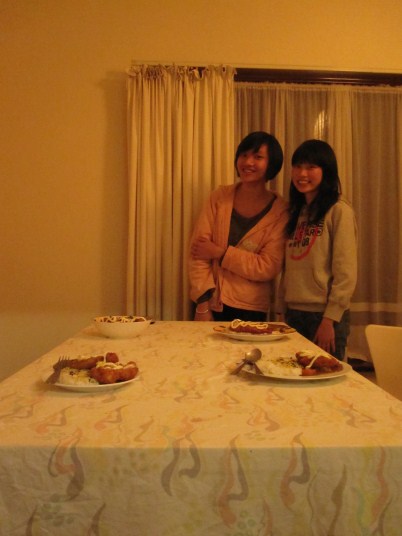 It was getting late and I was about to leave. But I was first trying to be nice and take the dishes to the sink, however, I was stopped by Teresa (my cousin's other housemate), she was saying so nicely about how I should just sit and talk to her (?). Well, was too full to offer resistance anyway :">.
But man, somehow the lights went off, a birthday cake lit with 20 candles were brought out from the kitchen. Ohhhhh man. I am 20 but still foolish. Man I just wanted to burst into tears.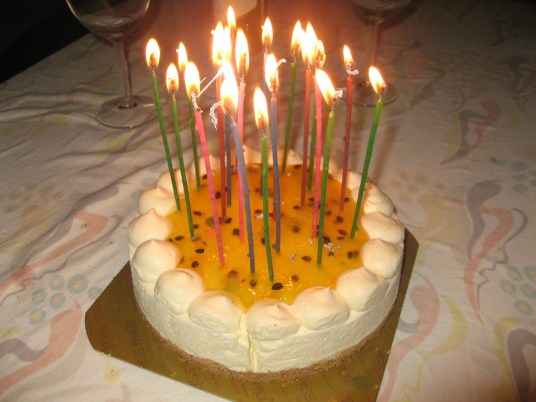 But no, they didn't let me do that easily. As long as I remember, there came HEAPS of presents. Like the presents themselves grew up from the ground
. And they all sang Happy birthday to me
. And Kenny brought out a bottle of wine (more?
), which is the delicious Orange Muscat & Flora, tasted like the best wine everrrr. We ate the cheese cake and drank that, talking about how drunk the others were.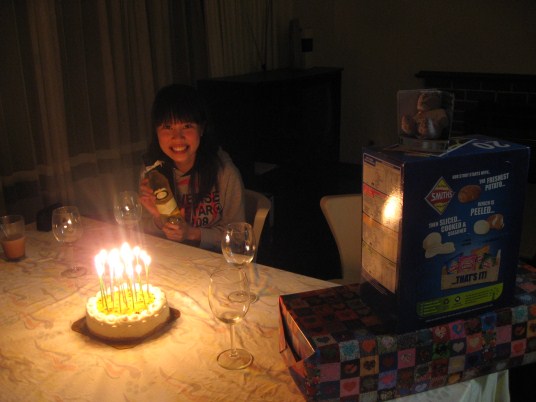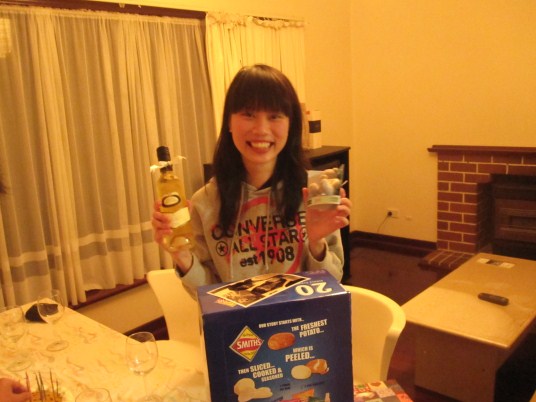 Teresa and my cousin showing the flowers they bought me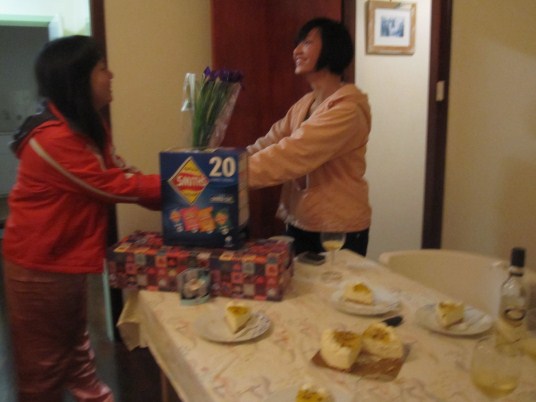 Kenny, the plant scientist, trying to figure out the scientific name of the flowers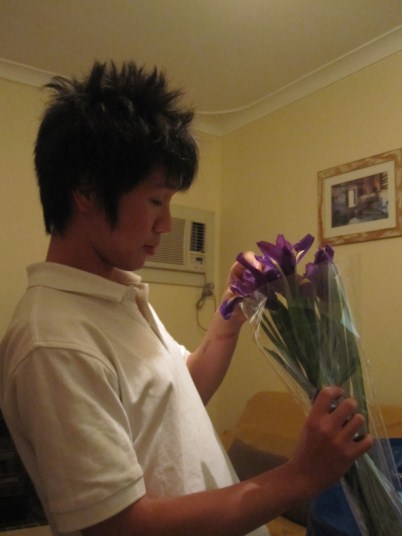 Kenny was soooooooo drunk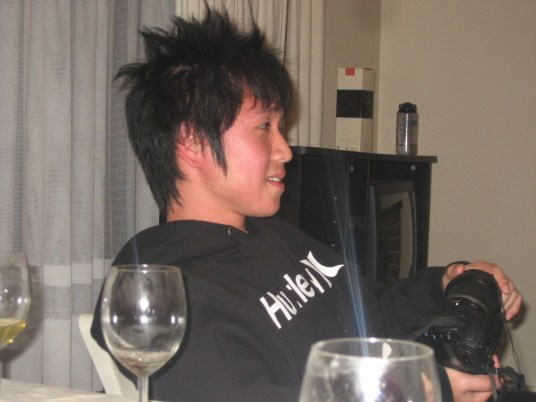 Man, guess what in the presents? They are a Me To You bear, a huge box of assorted potato chips (
am I that predictable???), a picture of me with my cousin with her writings on the back, a bunch of beatiful purple flowers, TWO bottles of wine, and guess what Kenny and Teresa got me: A GUITAR STAND!!! Know what? I was so moved I didn't know what to say, or how to thank them. I mean, they are just … my cousin's housemates
, but they treated me like their best friend. Can't find a word to describe how awesome they are!!!
But you might not know that my cousin already got me a birthday present weeks ago. It is A TICKET TO METALLICA CONCERT IN OCTOBER. In case you haven't known, the tickets sold out just 2 or 3 hours before sale opened. That is already the biggest present ever, but she and her housemates even threw out this party and all kinds of surprises for me. Really, is there any way I can thank them enough?
Minh, Teresa, Kenny: Thank you guys so much for all that, I'll never forget the memory.
Also, on the most special note, today my significant other woke up at 4:30 (
) in order to catch me on time to show his special present (as if today were my birthday
). Check it out here to reveal the thing that blew my mind since very early in the morning: http://ponology.com/cutie/pacman/
In the end, thank you friends and lover, for flooding me in love and happiness, although it wasn't even my birthday yet. I even got a card on Facebook from Zetxb. I just want to say I really appreciate everything, and I am so lucky to have you guys in my life