I remember once I said on Facebook I need to keep track of awesome things I do so that I can tell my grandchildren properly. Well, yes, I try to participate in as many of fun little things as possible, all for the sake of my grandchildren!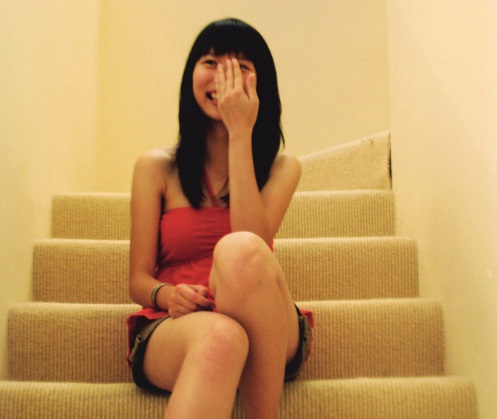 It was months ago, I got the monthly newsletter from Murdoch International (or it's what I remember), with a call-out poster to participate in a photo project funded by some youth organisation of the government (or whatever). Exactly same way that led me to do the Skin Depth documentary last year. So, this time I signed up too.
Hours after that they called me, arranged for a meeting at Icy Ice near my house some other day.
The project's aim is to capture different phases in the adaptation process of young people from overseas in Australia. Well, I didn't have much to tell about me, or as long as I thought so. But then they seemed to be excited to find out an aspect from which I can be captured differently, I'm here for more than 2 years but still emotional and homesick now and then, and they wanted to feature me as a girl missing her boyfriend and family back home.
The photo shoot took place in my house. I guess on that day the "professional" photographer guy of the team was busy and they thought that the photo shoot would be easy cos it's indoor so the girls who interviewed me just did it. (Arghhh and now I look at the photo book and envied that other people have better shots than me). It was much longer than I expected, every idea was exhausted. At the end (as I just know by now), only 5 photos made it to the book.
After that also the girls come to take a short video to include it in the marketing clip. I have to admit that I look extremely stupid this time.
Okay, still, it was a fun thing to do, and I hope that my grandchildren, and you, will somewhat enjoy this tale of mine. The end. More tales to come, promise, just keep sticking to this page.
Here are the website (the video is here), and the photobook
Pictures on the opening day of the gallery: Clickkk here